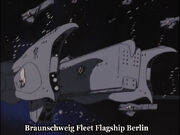 Flagship of the Lippstadt Rebellion's fleet.
Military Service
Edit
The Berlin served as the primary flagship for the Lippstadt Rebellion's space fleets, in the Imperial Civil War. After the siege of Geiersburg Fortress, the Berlin was seized by Rheinhard von Lohengramm's forces.
Mechanical Details
Edit
Length:
Width:
Height:
Armament: 10 forward cannons; 23 port cannons; 23 starboard cannons.
Crew: