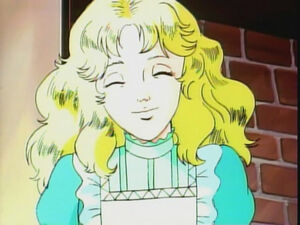 Evangelin Mittermeyer was the childhood friend, and later wife of Imperial Fleet admiral Wolfgang Mittermeyer.
Family Life
Edit
Evangelin lost both of her parents when she was very young, and was sent to live with distant relatives. Those distant relatives ended up being the family of Wolfgang Mittermeyer, and the two eventually fell in love. On the day he graduated from the Imperial Academy, Wolfgang Mittermeyer proposed to her, and she accepted.
Though they tried to concieve a child for many years, Evangelin was never able to get pregnant. Upon the death of Wolfang Mittermeyer's friend, Oskar von Reuenthal, she and her husband adopted Reuenthals son to raise as their own.
Ad blocker interference detected!
Wikia is a free-to-use site that makes money from advertising. We have a modified experience for viewers using ad blockers

Wikia is not accessible if you've made further modifications. Remove the custom ad blocker rule(s) and the page will load as expected.