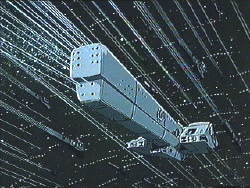 Personal warship of Imperial Fleet Admiral Karl Robert Steinmetz.
Military Service
Edit
The Forkel served as the flagship for Admiral Steinmetz' fleet. It was destroyed at the Battle of the Corridor.
Mechanical Details
Edit
Length: 956 meters.
Width: 246 meters.
Height: 186 meters.
Armament: 16 forward cannons; 20 port cannons; 20 starboard cannons.