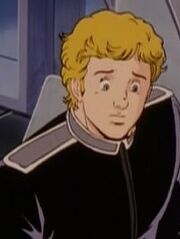 Tonio was a gunner's mate aboard an Imperial Warship commanded by Rear Admiral
Siegfried Kircheis
during the
Kastrop Rebellion
.
At a point before the Kastrop Rebellion, Tonio is known to have served aboard Reinhard von Lohengramm's flagship, the Brunhild during the 4th Battle of Tiamat.
Tonio held the rank of Private Second Class (Nitōhei (二等兵)
He served alongside Corporal Kurt, a veteran of many battles who shows Tonio the ropes.
His fate after the Kastrop Rebellion is unknown.
Ad blocker interference detected!
Wikia is a free-to-use site that makes money from advertising. We have a modified experience for viewers using ad blockers

Wikia is not accessible if you've made further modifications. Remove the custom ad blocker rule(s) and the page will load as expected.